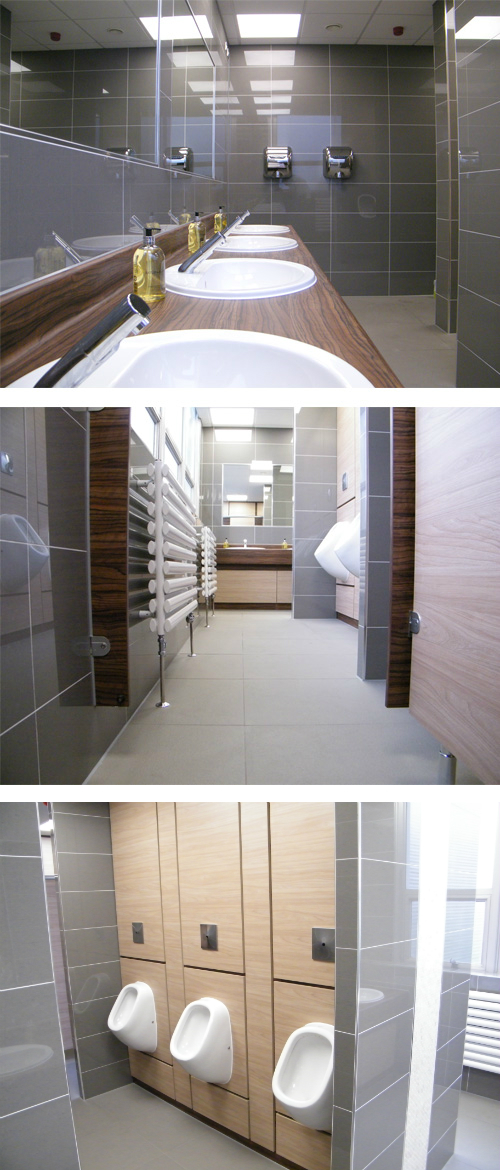 Commercial Washroom Refurbishment
Principle Contractor South Heat & Electrical Ltd
Principle Designer South Heat & Electrical Ltd
Construction (Design & Management) South Heat & Electrical Ltd
Project Value >£100,000
Project Scope
South Heat & Electrical were contracted to refurbish an existing male washroom on the first floor of a commercial office building. Works included the decommission and strip out of the original shell, and the installation of new mechanical and electrical services including:
Mechanical extract heat recovery system
Low energy sensor lighting
Boosted hot and cold water system
Low temperature hot water (LTHW) heating
Toilet cubicles and urinals with integrated plumbing systems (IPS)
The refurbishment included the installation of a new grid ceiling interlock system and the integration of a fire and building management system. The project was finished to a very high standard, in line with Siemens worldwide reputation, including:
Italian porcelain tiling
Inset mirrors
Scandinavian-designed sanitary ware
Energy efficient A rated high-flow hand dryers
About Siemens
A leading global engineering and technology services company that has been active in the UK for over 170 years. Siemens provide innovative solutions to help tackle the UK's major challenges. With a significant presence throughout the UK, Siemens has 13 manufacturing sites and more than 25 major offices.
"I have been on annual leave and away on business until today and just visited the men's toilets on the first floor, Building 1 for the first time after the refurbishment. They are absolutely fantastic! Thank you for all your effort and hard work to get these 'over the line'."